CPR4 is a handheld easy-to-use device for detection of moving objects behind walls or other obstacles. A person hiding or trapped may be detected several meters behind a wall. If there are moving objects, the operator will be alerted immediately. 
Some features of the CPR4:
Outstanding dimensions
Small, light and easy to use while staying alert of your surroundings. The CPR4 weighs less than 600 gram and is one of the smallest wall penetrating radars in the world!
Minimal installation and training time
The CPR4 is comes pre-configured and is therefore ready-to-use right away! The display is user friendly and is naturally maneuvered with adjustable settings for optimal usage. 
The more experience the user gets, the more efficient the device becomes. Eventually the user can unlock the full potential of the CPR4. 
Identifying device
If several CPR4s are monitored at the same time, it might be helpful to identify them with a settable friendly name, a unique picture taken with the smartphone or use the identify command to have the particular device lighting up.
Wireless communication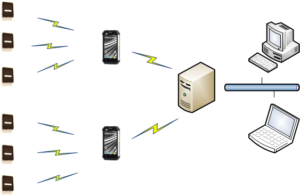 Up to 4 units can be remotely controlled and monitored on an Android or Windows device.
Global connectivity through secure connection to our cloud server makes long distance monitoring possible.
Using our CiMonWeb application you can monitor the activity in all your connected sensors in a web browser from anywhere.
Power and battery time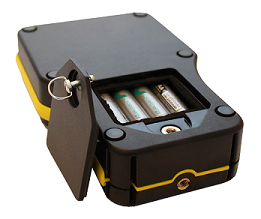 Included rechargeable batteries or standard AA batteries can be used and are easily replaced.
Powered and charged with a standard mini USB-cable. 
Fully charged batteries will last at least 8 hours.
Components of the CPR4 Package
One CPR4.
One rugged smart phone with our pre-configured monitoring software CiMonA for wireless monitoring.
Power adapter with 2xUSB, input 110- 230VAC international AU, EU, UK, US. 
Ruggedized PELI™ case for harsh field use.
One set of 4 AA NiMH low discharge batteries.
Connection cables.
User manual.
Quick Start Up Guide.
USB-stick with documentation and extra materials.
Spare batteries.
Content may slightly vary!
We continuously update the various parts to the most recent versions!
Additional equipment and spare parts are available.